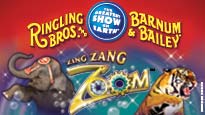 What a wonderfully fantastic time we had at the Circus this weekend!! It was the first time any of us had been to the Circus me included! My Children were absolutely captivated by the thrill and imagination of the whole show!!
Bubbies with his very expensive Cotton Candy Hat!!!
From the time I told Sissy we were going to the Circus all she talked about was the Circus Lions!! She was very very patient waiting for the big cats to come out since they were almost last! She kept asking where were her circus lions at? She absolutely loves the Dora episode with Leo the Circus Lion, this is why she kept asking for the Lions!
Well they weren't really Lions, but tigers, SHHHH we won't tell Sissy that
From the Moment the circus started until the time the curtain closed was beautiful and spectacular!!
Video of Opening of Circus!
Asia the Elephant disappears
From the Clowns to the Tight Rope walkers and everything in between I felt like I was a child again. I loved watching the faces of my children as they were amazed with the magic, the stunning beauty of it all, and the animals.
Asia the Elephant and her friends performing!
Asia the Elephant and Friends!
Asia the Elephant and Friends!
Bubbies was Fascinated by this trick!!
Bubbies favorite part was the Human Cannon Ball Ladies! Here is a video to check out!
This guy in the next 2 videos was totally awesome!! I don't know what you would call him but he was so cool!! We all just were amazed by his talent! His ring that he does his stunts in and on was built by the Orange County Choppers!!
We had an AWESOME experience at the circus!! I recommend you go the next time it is in your town!! Particularly The Zing, Zang, Zoom show!!